Creating market differentiation through elevated perspective
THE PROBLEM
Help a multinational technology conglomerate thrive in a new competitive systems networking market space with a differentiated and scalable offering.

One of America's Fortune 100 multinational technology conglomerates identified an unmet opportunity for the role of non-typical industrial Internet-of-Things (IoT) type devices in an end-to-end network experience, and wanted to add more integration, value, differentiation and scale into the systems networking market space.
THE APPROACH
The opportunity was to design a system that could scale non-typical devices at an IoT thinking level, operate on one unified system, cater to a variety of unique needs while maintaining industry and government compliance as it relates to IoT security.
CG began by clarifying the challenge and primary question: how can we identify and focus on gaps and opportunities within specific IoT applications. The "manufacturing" segment was prioritized based on its emerging opportunities, and the strong and open communication between the client and the customers. It was important to speak directly to the operators of these new non-typical devices about their unmet needs, and understand any unique situations and complexities in their operations. CG uncovered that each of the client's customer's market realities, management and network needs differed greatly in their needs vs their current client's.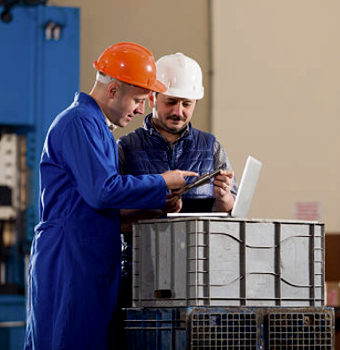 Orchestrating Differentiation with Technology
Organizational Unification
Technology Adoption
Government Compliance
THE SOLUTION
CG discovered an unexpectedly large gap between the IT and OT functions which was key to unlocking differentiated solutions and success factors that created effective ways for these functions to support, augment and reflect together in their complicated business and organizational dynamic. The solution was driven by understanding how these functions interconnect while maintaining their individual attributes. CG's design group then created a prototype that established a foundation to bridge the critical needs, workflows and effective communication between these co-existing functions. CG continually iterated with the client throughout the process by presenting concepts, receiving continual feedback, rebuilding and revising until the concept product was thoroughly vetted, well-designed, and ready to test with market users.
THE RESULTS
CG designed an industrial network controller that managed non-typical devices on the network, by understanding the stakeholders, their needs, operational environment and interdependencies. Additionally, their design afforded considerations that could minimize the separation of time.
Enabled control of non-typical devices in an end-to-end network
Improved support and communication between the IT and OT functions
Reduced the burden for government security compliance
For more information, contact us at: hello@chobaniangroup.com